About Saefern's Amenities - The Horse Stables

The Horse Stables
Hidden 0.3 mile up and down a private road you come to the Barn in Saefern. After all, the proper name is Saefern Saddle & Yacht Club. Here you will find a 9-stall barn, built in 1975, with a cement aisle, cross ties and saddle blocks. There is even a convenient hayloft for storage, a designated area for tools and equipment and another for feed. The remaining stalls have individual electric outlets high on the aisle side.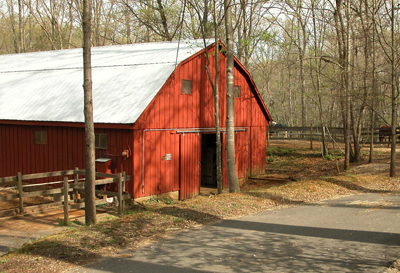 We are lucky to have a fenced arena large enough for dressage work, where local trainers give lessons and/or training. A bridle trail connects to the power company "right of way" by crossing Epping Forrest Road near the Saltworks Community and there is ample parking for small horse trailers.
The barn operates through "self help". The owners of the horses take turns with feedings, and each owner is responsible for supplying each horses' feed. Usually, hay and sawdust are delivered in bulk and the owners share that cost. Each owner is responsible for cleaning the stall and some paddock daily. A benefit to all neighbors is that the waste is stored for composting and can then be used for gardens.