About Saefern's Amenities - South Harbor Docks
South Harbor Docks Located on Saltworks Creek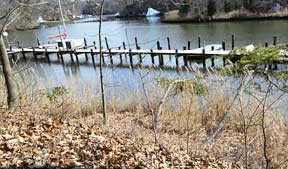 A smaller dock on Saltworks Creek provides a dozen slips, dinghy storage and boat ramp for smaller craft. Its more pastoral setting is also enjoyed by a member yoga group during summer months.
These docks on South Harbor also enjoy the same parking, lighting and electrical access as the North Harbor. They are ideal for the 15-20 foot boats with minimal draft requirements.
Dock Maintenance and Upkeep
Saefern's docks are one of its most valuable assets. Approximately half of the North Harbor docks were replaced in 2004 with the other half scheduled for replacement in 2015. Dock maintenance and replacement are funded by our general membership dues. To help minimize cost, much of the ongoing yearly maintenance is done by member volunteers. Most of this dock maintenance occurs at community workday in the spring and fall. These are Saturday morning affairs followed by lunch at the community pool house.
There are no charges to community members for dock usage beyond the annual dues. We believe this makes Saefern a real bargain. The community spirit and friendly support of fellow boat owners make our docks a truly special place. With 70% of our member households keeping boats in our slips or at the dinghy racks, our docks are the most popular Saefern community facility.